Visit the full MBDC website: www.mbdc.com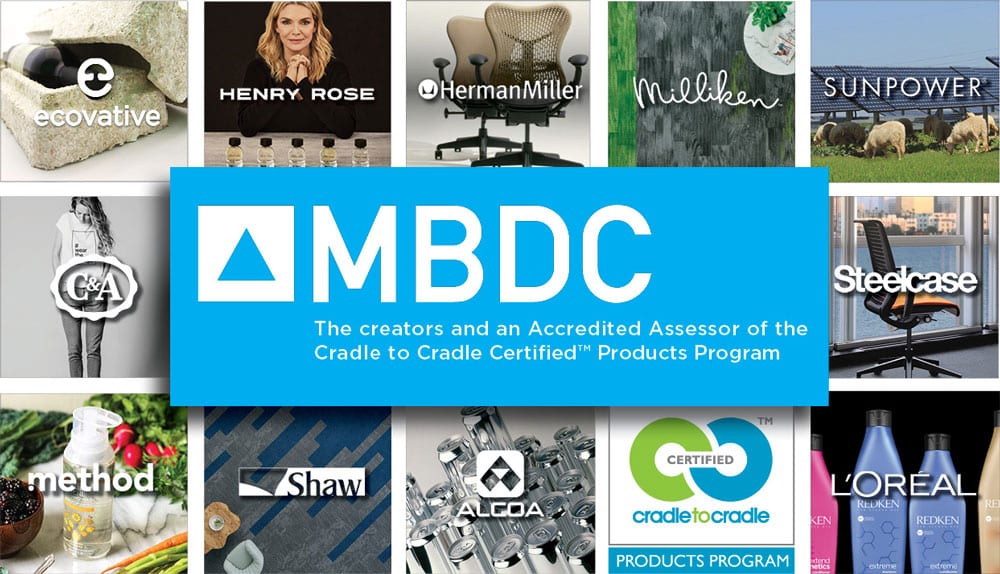 Contact MBDC to get your products Cradle to Cradle Certified™
---
+1 434.979.1111
info@mbdc.com
MBDC: Design + Chemistry + Leadership + Innovation
Founded in 1995, MBDC has been advocating for endlessly resourceful Cradle to Cradle approaches, working with companies to intentionally design products which eliminate the concept of waste, use clean energy, value clean water and celebrate diversity.
MBDC's services help clients understand and implement the Cradle to Cradle Design™ Framework on multiple levels, from materials and products to packaging and corporate leadership.
We created the Cradle to Cradle Certified™ Products Program
We conceived and launched the Cradle to Cradle Certified Product Standard which is now administered by the Cradle to Cradle Products Innovation Institute to make it available to the public as an independent, third-party, peer-reviewed program in order to spur innovation on a global scale. 
The Cradle to Cradle Certified™ Products Program is the world's most advanced, science-based standard for designing and making products for the Circular Economy. It acknowledges continuous improvement and innovation of products and processes toward the goal of being not just "less bad" but also "more good" for people and the planet.
We are leaders in Material Health Assessments
Our chemists have been providing material and product assessments, down to the parts per million, for over two decades.
We developed the Cradle to Cradle Design Framework
We have inspired and guided companies around the world to remake the way they make things.
Inventory + Assessment + Optimization
In addition to providing Assessments for the Cradle to Cradle Certified™ Products Program, MBDC's services include:
Material Health Assessments
Product Screens
Product Optimization
Cradle to Cradle
®

 Training & Workshops