architect  •  advisor  •  designer  •  thought leader  •  author
---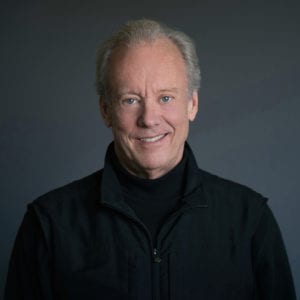 Born in Japan, February 20, 1951, William McDonough was first introduced to closed loop material cycles while growing up in Japan and Hong Kong. This experience had a tremendous influence on his life. McDonough's interests and influence range widely, and he works at scales from the global to the molecular. He is recognized globally as a leader in sustainable development. His vision for a future of abundance for all is helping companies and communities think differently. Together they are changing the world.
Download PDF: William McDonough Biography
Highlights
---
Inaugural Chair of the World Economic Forum's Meta-Council on Circular Economy, 2014-2016
Recognized by Time magazine as a "Hero for the Planet," noting: "His utopianism is grounded in a unified philosophy that—in demonstrable and practical ways—is changing the design of the world."
Received the Presidential Award for Sustainable Development, 1996
Earned the first U.S. EPA Presidential Green Chemistry Challenge Award for his work with Shaw Industries, 2003
Received the National Design Award for exemplary achievement in the field of environmental design, 2004
Architect of many of the recognized flagships of sustainable design, including:
Author/Speaker
---
William McDonough has written and lectured extensively on design as the first signal of human intention.
Corporate / Not-For-Profit
---
William McDonough advises commercial and governmental leaders worldwide through McDonough Innovation.
McDonough is also active with William McDonough + Partners, his architecture practice with offices in Charlottesville, Virginia, and San Francisco, California.
William McDonough and Michael Braungart co-founded MBDC, a Cradle to Cradle® consulting firm. McDonough and Braungart have also co-founded not-for-profit organizations to allow public accessibility to Cradle to Cradle thinking. These include:
GreenBlue (2000), to convene industry groups around Cradle to Cradle issues.
Cradle to Cradle Products Innovation Institute (2009), founded at the invitation of California Governor Arnold Schwarzenegger to create a global standard for the development of safe and healthy products.
Videos / Interviews
---
William McDonough: Architect & Designer (OnInnovation)
Green Architect & Cradle to Cradle Founder William McDonough (Inhabitat)
William McDonough Projects (Arch Daily)
William McDonough, FAIA: The Renaissance Man of the Green Movement (GreenSource)
Watch William McDonough's Presentations (YouTube)
William McDonough speaking at Global Citizen 2015 Earth Day on April 18, 2015, in Washington D.C. The event was held to inspire citizens to take action for the people and the planet.
William McDonough discusses the benefits of the Cradle to Cradle® Design Framework in this Reuters TV segment, November 2015.
Resource Abundance by Design presented by William McDonough at the World Economic Forum in Tianjin, China, September 12, 2014.
Huffington Post interviews sustainable design leader, William McDonough live at the 2014 World Economic Forum in Davos, Switzerland
Beyond Sustainability: From Limits To Growth: William McDonough's talk at the 2014 World Economic Forum Annual Meeting in Davos, Switzerland,January 24, 2014.
Articles
---
William McDonough Discusses Method's New Manufacturing Facility (Huffington Post)
The Upcycle and Waging Peace Through Commerce: William McDonough Wants Us To Design Our Way To Abundance (Forbes)
William McDonough Helps the World Economic Forum Set the Agenda for Sustainable Business (PRNewsire)
Green Pioneer William McDonough (San Francisco Chronicle)
William McDonough: 6 ways to move beyond zero-waste (Green Biz)
William McDonough Feature: Industrial Revolution, Take Two (Vanity Fair)
Stanford Libraries Acquire the Archives of Leading Environmentalist William McDonough (Stanford | News)
William McDonough Feature: The King of Green Architecture (Discover Magazine)
William McDonough and Michael Braungart Feature (Time)
"Designing cities and factories with urban agriculture in mind" by William McDonough (The Guardian)
Selected Honors & Awards
---
Award for Circular Economy Leadership, World Economic Forum, 2017
Award for Vision and Leadership in Sustainability,Hanley Wood, 2017
David Gottfried Global Green Building Entrepreneurship Award,World Green Building Council, 2017
Leadership Award,US Green Building Council, 2016
J.N. Darling Conservation Award,National Wildlife Federation, 2014
Natural Products Award, Rachel Carson Environmental Award, 2013
U.S. EPA, 21st Century Visionary Science Leadership Award, 2008
Presidential Green Chemistry Award (for work with Shaw Industries/Berkshire Hathaway), President George W. Bush, 2004
National Design Award, The Smithsonian Institution, Cooper-Hewitt Museum, 2004
Benjamin Botwinick Prize for Ethical Practice in the Professions, Columbia University Business School, 2003
Hero for the Planet, Time Magazine, 1999
United States Presidential Award for Sustainable Development, President Bill Clinton, 1996
Designer of the Year, Interiors Magazine, 1999
I.D. Forty Design Award, I.D. Magazine, 2001
Education
---
Yale University, School of Architecture, Master of Architecture, 1976
Dartmouth College, Bachelor of Arts, Magna cum Laude, Phi Beta Kappa, 1973
Academic
---
University of Virginia: Dean, School of Architecture and Edward E. Elson Endowed Chair, 1994–1999; 
Darden School of Business, Professor of Business Administration & Alumni Research Professor, 1999–present
Stanford University: Consulting Professor, Civil and Environmental Engineering, 2004–present
Living Archive Subject, Stanford University Libraries, 2012-present
University of Cambridge: Sustainability Leadership Council, founding member, 2007–present
Yale University: School of Forestry & Environmental Studies Leadership Council, 2002–present
Arizona State University: International Board of Trustees for Sustainability, 2007–present
Insituto de Empresa, Madrid, Spain: Eco-Intelligent Management Center, Chair, 2004–2006
Cornell University: A.D. White Professor-at-Large, 1999–2004
Tongji University, Shanghai: Honorary Professor, 2004
International
---
World Economic Forum:
Member, Global Future Council on Biodiversity and the Bio-economy, 2018 – present
Member, Global Future Council on the Future of Environment and Natural Resource Security, 2016 – 2017
Chair, Meta-Council on the Circular Economy, 2014–2016
Chair, Global Agenda Council on the Future of Sustainable Construction, 2008–2009
Cultural Leader, 2002–2008
United Nations:
Sustainable Development Goals¸ Presenter and Panel Participant, 2014

Conference on the Environment & Development (UNICED: The Earth Summit), Official Representative for Architecture and City Planning, International Union of Architects and the American Institute of Architects (dual role), Rio de Janiero, 1992
         Official Representative, New York, 1992
China-U.S. Center for Sustainable Development: 
U.S. Chair Emeritus of the Board of Councilors, 2009-present
U.S. Chair and Member of the Board of Councilors, 1999-2009
Commercial
---
Unilever Sustainable Living Plan, Advisory Council, 2018–present
Walmart, External Advisory Council, 2009–2013
SAP CEO Sustainability Advisory Panel, Member, 2011–2012
General Electric, Ecomagination, Board of Advisors, 2008–2009
Dow Jones Sustainability Index, Advisory Board, 2004–present
VantagePoint Capital Partners, Senior Advisor, 2004–present
Cherokee Sustainability Council, Member, 2004–present
Non-Profit Organizations
---
Fashion for Good, Co-founder, 2017
Clinton Global Initiative, Advisor, 2012–present
Cherokee-McDonough Challenge, Advisor, 2012–present
Cradle to Cradle Products Innovation Institute: Co-founder, 2009
Make It Right Foundation: cofounder, 2006; Board Member, 2006–2017
Healthy Child Healthy World: Advisory Board, 2006–2011
Sustainable Packaging Coalition: Co-founder, 2005
GreenBlue: Co-founder, 2002
John Heinz III Center for Science, Economics, and the Environment¸ Board of Trustees, 2001–2004
President's Council on Sustainable Development : Special Advisor to President Clinton, 1993–1996
W. Alton Jones Foundation, Board of Trustees, 1992–1996
Associations
---
American Institute of Architects: Fellow
Founding Member, Committee on the Environment
American Society of Landscape Architects: Honorary Member
Royal Institute of British Architects: International Fellow
Urban Land Institute: Fellow
U.S. Green Building Council: Charter Member