The ICE Hub features Innovation for the Circular Economy and opens October 31 in Glasgow
McDonough Innovation, along with Hub Culture and Beauty Kitchen, is establishing the ICE Hub: a gathering and working space for those attending COP26. Much like the ICEhouse assembled in Davos for the World Economic Forum, the ICE Hub will host numerous discussions about how Cradle to Cradle Design™, the Circular Economy and the Circular Carbon Economy can contribute to positive carbon management solutions.
A major theme of the ICE Hub will be reuse – with McDonough Innovation and Beauty Kitchen launching their system for packaged goods to be repeatedly refilled and reused through locally-based approaches in packaging and fulfillment.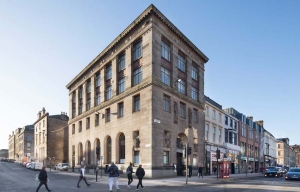 The space will continue to serve as a Circular Economy educational center in Glasgow through 2022 focused on reuse technologies, coworking and innovation.
Contact us to learn more about McDonough Innovation's presence at COP26 and the ICE Hub.